I can create a painting of you or your loved ones (friends, family, pets, idols, rockstars, etc.) in a "Bigeyed Keane" style or in any style or setting that you would like created.
For the bigeyed portraits I need photographs of the subject matter. Any details you would like to include will add to the portrait's personality. For example, you may be wearing a favorite piece of clothing or holding a favorite toy, album cover, etc.
12″ x 24″ is the standard sized canvas for my bigeyed portraits. Smaller and larger sized canvas's are also available for the bigeyed paintings. Prices vary depending on size and subject matter.
I can also paint you or your subject into any sort of scene. For example, Charlotte Caffey in the jungle, Lucy as St. Mary, etc. I will need photographs of your subject matter and artwork or ideas for the setting that they will appear in. For these particular paintings, you may order any sized canvas that you would like. Prices will be determined by size and subject matter. All paintings are acrylic on stretched canvas
To begin a commissioned painting, I will need a 50% deposit. I will then schedule the painting on my calendar. After this is done, I will email or send via regular mail a preliminary sketch for you to approve and/or revise.
At the completion of your painting, I will send you a final photo for you to approve. Then, when the remainder of the balance is received, your painting will be shipped to you.
The prices start at $550. Your total cost will be determined once the final sketches are approved by you. All prices are for "unframed" canvas's.
I accept the following forms of payment. Cashier's Check, Money Order, and Credit Card's thru Paypal only. No cash please. We will ship your painting via USPS Priority Mail w/Delivery Confirmation and Insurance. The cost of shipping & handling is included in the price of your painting. International shipping rates will be more.
Submitting Reference Photos
Once you have contacted Vicki regarding your custom portrait, you can eMail vicki@vickiberndt.com scans or mail reference photos to:
VICKI BERNDT
106 1/2 Judge John Aiso St. #410
Los Angeles CA 90012

What makes a good reference photo?
Click here to see samples of good reference photos and the final paintings.
---
View Samples
Click here to view sample paintings.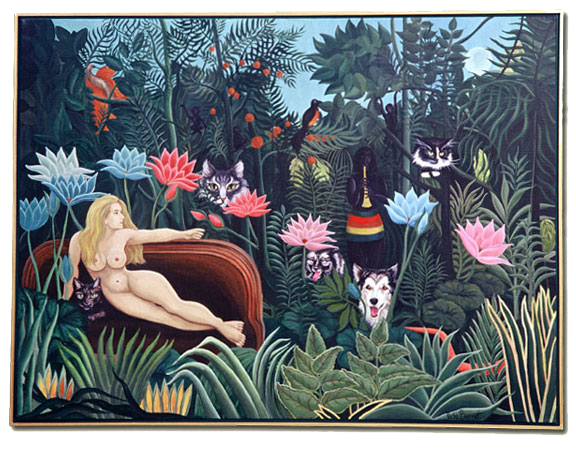 ---
Payment & Shipping
CREDIT CARDS:
You can Pay online via PayPal
CASHIER'S CHECKS/MONEY ORDERS:
Please make your cashier's check or money order out to Berndt Offerings and send it to:
BERNDT OFFERINGS
106 1/2 Judge John Aiso St. #410
Los Angeles CA 90012
Have questions or are ready to order a commission?